The restoration works of the pictures,
capturing the final 85 days of James Dean.
Shining a spotlight on it in the era of self-driving cars.
We digital have restored photos of James Dean(1931-1955) who is the actor reached the stardom after the movies "East of Eden" , "Rebel Without a Cause" and "Giant" in 1950s, Hollywood. The 1600 negatives are owned by world known Japanese collector Seita Ohnishi in Kobe,Japan.

The collection is entirely from the very important works by Sanford Roth (1906-1962), the official still photographer for Dean's last movie "Giant" who captured moments before and after the star's tragic and sudden death including rarely seen intimate shots of Dean at his friends'house. In the era of thriving technology in the automobile industry that deres to aim at an accident-free society, bringing back Dean's legacy, whose passing is still being mourned throughout generations across the globe, has much value.

All 1600 photographs, from James Dean Archives Seita Ohnishi Collection, have been digitally retouched and restored by a Japanese team of specialists over 3-year period.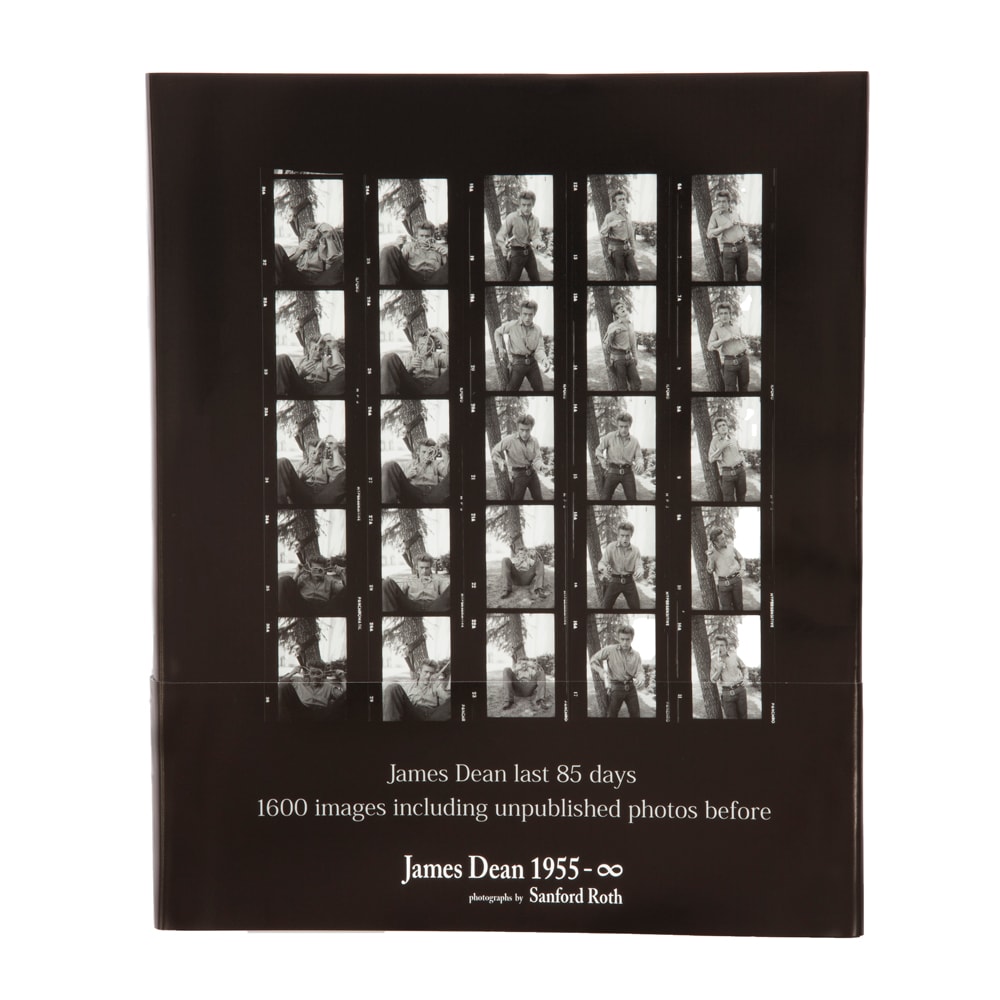 1600 photographs from the last 85 days of his life including never before published images.

Call for crowdfunding Now!
29th Nov - 27th Jan.
NEW photobook
"James Dean 1955-∞"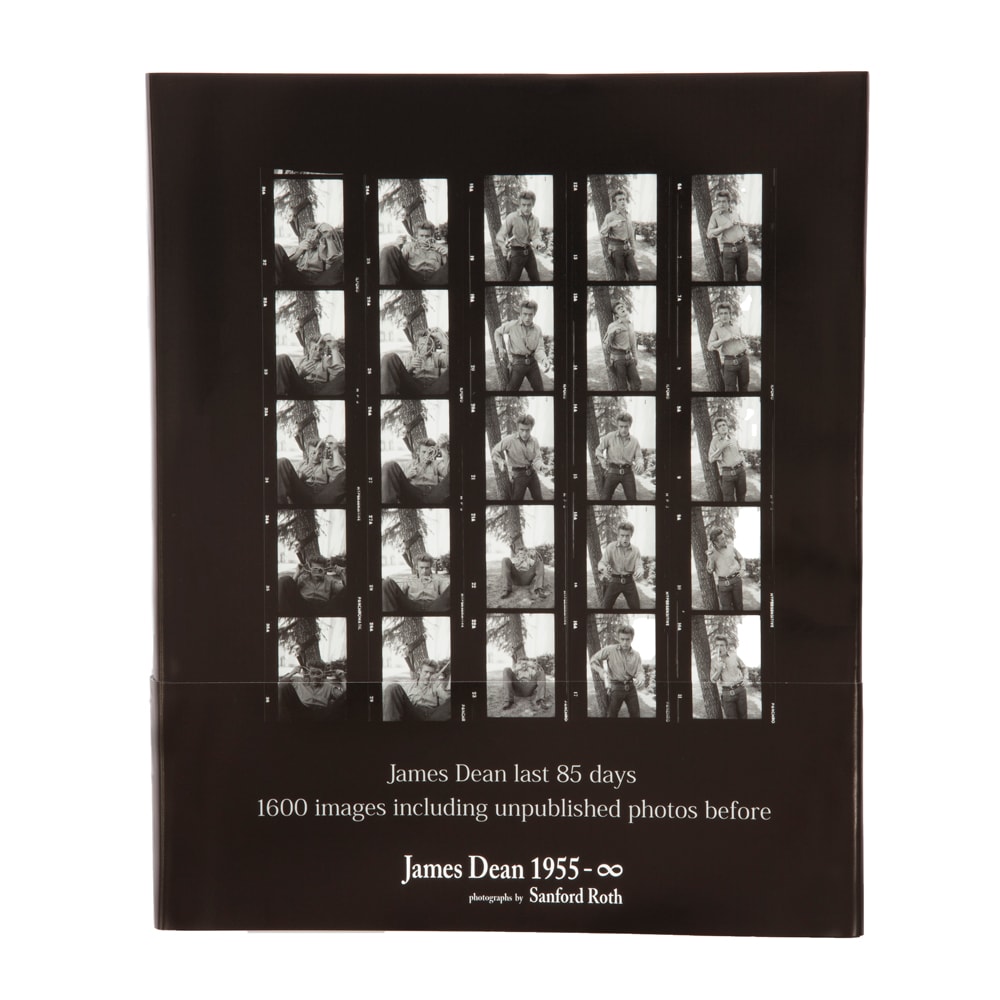 The photobook includes still images from the sets of the movie "Giant" along with private scenes of James Dean with the photographer Sanford Roth and Dean in his beloved Porsche 550 Spider moments before the accident.

This photobook hopes to project what Dean, whose short filmography includes Hollywood classics like "East of Eden", "Rebel without a cause" and "Giant" before tragically killed in a car accident at age 24, would have been like had he been alive today by comparing images from his prime and the role he had as a man in 50s in "Giant".

By presenting all the contact prints viewers will witness the processes of how entire rolls of film had been exposed, thus know what was before and after the shots with worldwide recognition. This will bring an opportunity for fans of movie, Porsche and photography alike to explore new perspectives.

All 1600 photographs, from James Dean Archives: Seita Ohnishi Collection, have been digitally retouched and restored by a team of specialists over 3-year period.
Become a supporter
Here you can be a supporter to publish
this photobook in crowdfunding
KICKSTARTER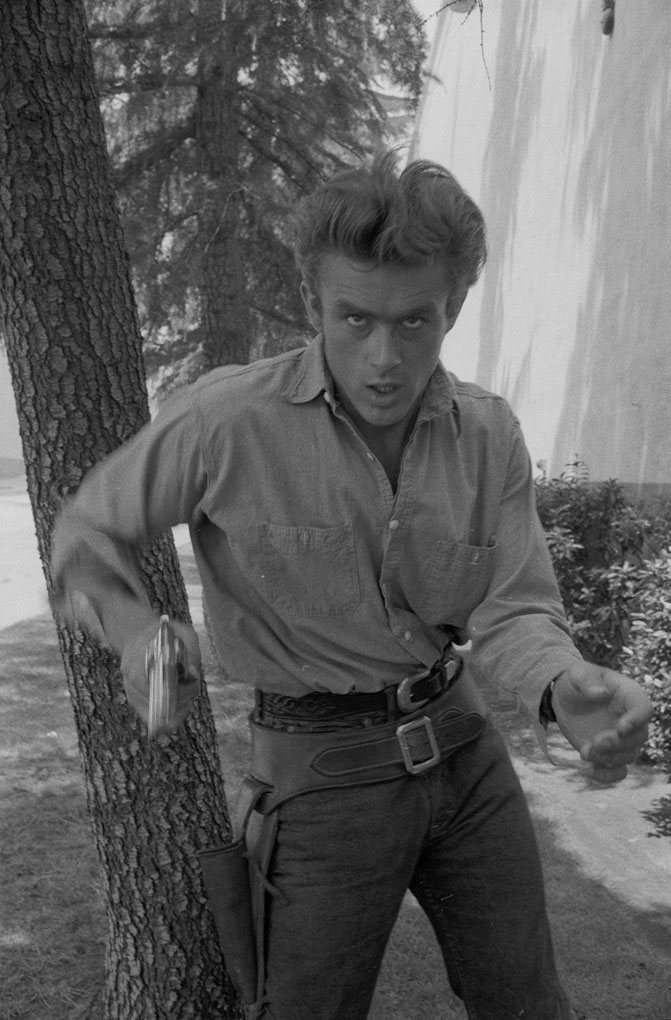 James Dean
The actor who reached the stardom after the first two movies "East of Eden" and "Rebel Without a Cause" had left this world without witnessing the success of third and the last on his filmography "Giant".
Born 1931 in Indiana, James Dean debuted on the silver screen in "East of Eden"(1955) and had equal, if not more, success in "Rebel Without a Cause" released in the same year. A week after he finished shooting his third film "Giant", Dean died in an accident in California while driving his beloved Porsche 550/1500RS. He was just 24 years old.
In "Rebel Without a Cause", Dean portrayed gloomy and ominous emotions of the times and widely resonated with his generation. In "East of Eden" he personified a man hungry for paternal love. In "Giant", the last appearance in a feature film, he played a life of a character, a young defiant cowboy going against a wealthy rancher with everything he's got who eventually became one of America's millionaires. The performances were highly acclaimed and brought him two Oscar nominations. In "Giant" Dean co-starred with famed and celebrated actress Elizabeth Taylor.
The outfit Dean had for his role in the movie, a pair of blue jeans and red swing-top became such icons symbolizing adrescents' rebellion against adults. Dean also committed himself to car racing and had driving skills at the level of professionals.
Dean died before the last work of his very short movie career hit the theaters, and one of the reasons why he's still a beloved movie star is because of the way he shot up to the stardom and repeated revivals of his works all around the world. Fans of his span across generations, from those in forties to eighties.
Project Members
Project Manager/Photographer

Tomofumi Nakano

Born 1978 in Hyogo Prefecture, Japan. Nakano worked as a newspaper editor followed by a brief career as a photographer with European Pressphoto Agency through which his works appeared on New York Times and Guardian among other international publications. Recognitions of Nakano's works include exhibitions in Kolga Tbilisi Photo Festival 2017 (Tbilisi, Georgia) and Pingyao International Photography Festival 2018 (Pingyao, China), as well as an Emerging Talent Award 2017 from LensCulture (Amsterdam, Netherlands) and Award of Excellence from Konica Minolta FOTO Premio 2010 (Tokyo, Japan). Nakano currently works on personal fine art photography projects along with James Dean Archives.

Technical Supervisor/Photographer

Yoshiaki Kita

Born 1967 in Osaka Prefecture, Japan. Kita started working as freelance assistant for commercial studios after graduating from Japan College of Photography and Motion Picture in 1988. Kita traveled all throughout Japan since 1987 only to expand his route to overseas from 1991, while working on projects in Europe, Africa, Asia, Central and South America. Recognitions for Kita's works include Grand Prix for National Geographic Photography Contest 2002 (Japanese Edition). Kita is a former part-time instructor in Art and Design Department at Takarazuka University.

Chief officer/CEO, Crevice Factory

Masatake Kawaguchi

Born 1983 in Hyogo Prefecture, Japan.
from U.S.A. to Japan
The backstory of the pictures of James Dean's final days to come to Japan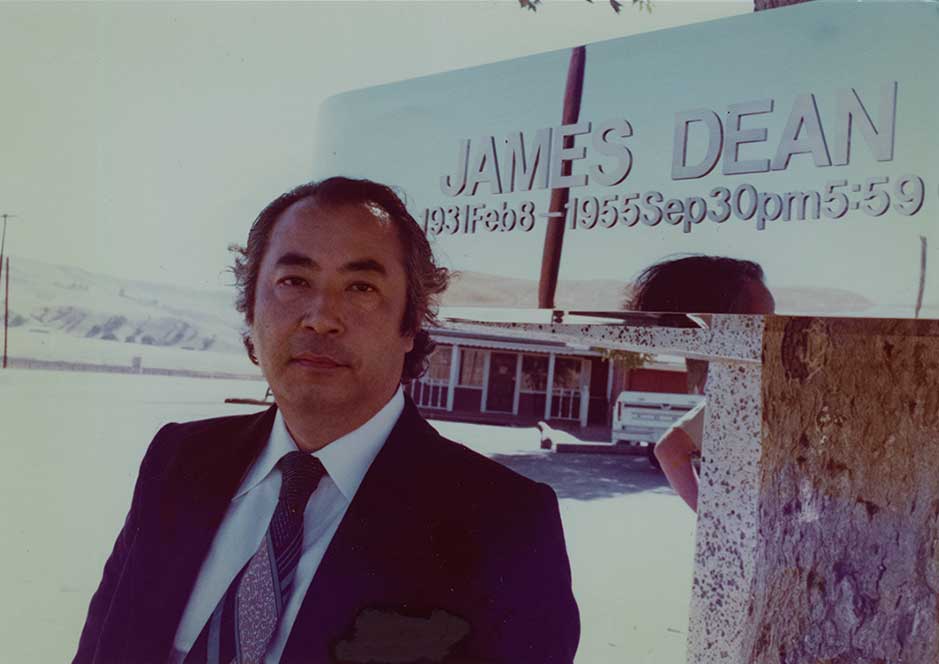 Seita Ohnishi is a big fan of James Dean and visited the site of the accident and instant death of the star, then felt convinced to do something in order to commemorate the legacy of James Dean because nobody has done it. So he built a steel memorial in 1977 in hopes for long lasting remembrance. That brought him and Beulah Roth, the wife of the late photographer Sanford Roth who took the pictures of the last days of Dean, closer. She was in several pictures with Dean at their home, and on rare occasions, even modeled with him for her husband's photo shoot. Ten years after Ohnishi built the memorial, Mrs. Roth gave negatives of 1570 shots and other memorabilias in 1987 so that "more people can be in touch with what Jimmy was really like". Ohnishi inherited very intimate personal connections through the photographic means.
Click here for more information on sponsoring the project
A 49 years old top-notch photographer personified the rare talent of a 24 years old actor.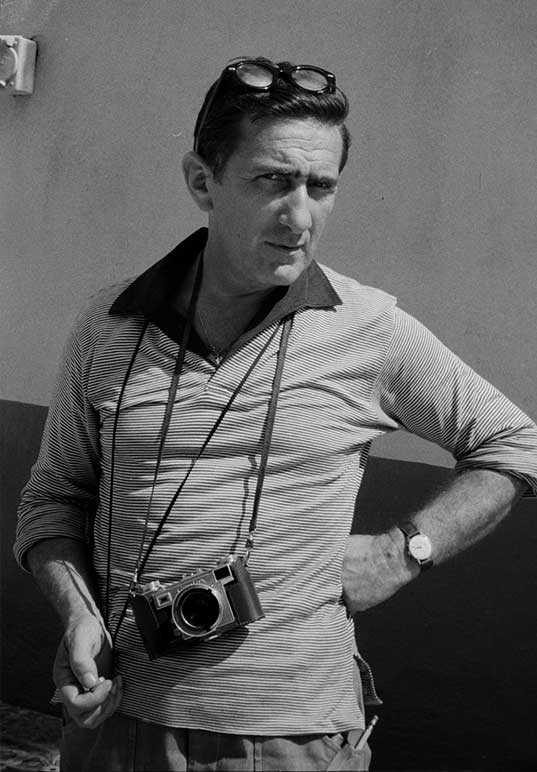 Sanford Roth
Photographer Sanford Roth left highly acclaimed works that brought him international recognitions such as portraits of Picasso, Chagall and Einstein.
Roth and Dean spent deeply intimate 85 days immediately prior to Dean's death. As a still photographer for the movie "Giant", Roth first met Dean at a movie set. From then on, they developed friendship both professionally and privately. Moments like playing with Roth's cameras during break between takes and visiting Roth's house for chatting with Beulah, playing drums or working on sculpture piece were captured on film. It was obvious the artists, a photographer and an actor, immediately hit it off, and Roth caught signs of Dean's promising talents. Roth was actually with Dean when the famous crash happened. Moments building up to it were also captured on film as well as clearly rattled Roth in the face of the erratic behaviour that led to the death of his new, young and talented friend to whom he held strong friendship.
Bio:
Born 1906 in New York. Beside the works on James Dean, Roth photographed 20th Century icons such as Albert Einstein, Pablo Picasso, Marc Chagall, Georges Rouault, Igor Stravinsky, Colette and many others. Roth died 1962 in Rome. Roth's works had appeared on Life, Paris Match, Harper's Bazaar, Vogue, Oggi, People among others. Roth held solo exhibitions at LACMA (Los Angeles County Museum of Art), The Art Institute of Chicago, Pasadena Museum of California Art, SFMoMA (San Francisco Museum of Modern Art) and Mills College Art Museum.
Museum of Modern Art, New York City, New York
Israel Museum, Jerusalem, Israel
Los Angeles County Museum of Art, Los Angeles, California
Academy of Motion Picture Arts and Sciences, Beverly Hills, California
Musee De La Photographie Ville de Mougins le Maire, Alpes-Maritimes, France
Norton Simon Museum of Art, Pasadena, California
Getty Museum Research Center, Los Angeles, California
Museum Ludwig, Cologne, Germany
Sponsors
The negatives for this project are from 1955 and surely damaged to a great extent. Touching them with bare hands is unthinkable today but photographic negatives were thought to be just original plates to make print copies and weren't treated with care and precision back then. It will certainly take time to cure the countless scratches on surface and will be a grueling work. From the start of this project, we've been treating them with the most care possible. In creating original digital files in RAW format, scanning is done not in bulk but by each frame individually and then digitally retouched. Using pigment inks, widely favored among photographers, galleries, museums and collectors alike for its endurance and durability against aging, prints will be made on acid-free Matte papers and framed for the exhibition. In printing, especially for black-and-white photographs, the gradually shifting tones of grey, from pure black to pure white, are what requires professional skills to create and what will be valued by those with photographically aesthetic sense. We aim at the quality of museum collection.
In order for us to make the exhibition of little known last weeks and months of Dean's life realize, we need to secure digital restoration professional, venue for the exhibition, printing and framing costs. We respectfully ask for your supports in forms of sponsorships.
In the midst of today's technological advancement in developing safer society in which automobiles cause least possible fatal accidents, we find great sense of mission to re-introduce a man to our time, whose unfortunate, sudden and famous fatal accident at the age of 24 would carry something to present generations and beyond. Using cutting edge technologies like VR, we are confident we can offer an experience that would resonate with audience. Again, we sincerely and respectfully ask for any technical and financial supports from private and corporate entities. Please contact us using the form below.
Call for sponsors
Contact about sponsorships